This Key Lime Pie Martini is made with coconut rum, vanilla vodka, pineapple juice, cream and the juice of a fresh key lime. Garnished with a graham cracker "crust" rimmer, it tastes just like key lime pie in a glass.
If you love key lime pie and you love martinis, break out the martini shaker. You're going to love this refreshing and decadent cocktail!
Key Lime Pie Martini
A key lime pie martini is so decadent, it's like a dessert in a glass. It's rich and creamy, but tart and refreshing all at the same time – just like key lime pie.
A word of warning before you make this cocktail: the flavour is highly addictive. Trust me on this. You won't be able to stop at one.
My Key Lime Pie Martini Recipe first appeared on my friend Amanda Formaro's blog: Amanda's Cookin'.
Inspired by my Alaskan Princess Cruise
Recently, I had the immense pleasure of accompanying my friend Amanda Formaro and several blogging buddies on a week-long Alaskan Cruise.
It was the Princess Cruise Lines' "Voyage of the Glaciers" which toured the Alaskan coast and Glacier National Park, stopping at three ports of call: Icy Strait, Juneau and Skagway.
During the week, we went whale-watching, saw abundant wildlife and unforgettable scenery, witnessed glaciers calving, and went on several incredible excursions.
My favourite Alaskan excursion was our helicopter trip to the top of a glacier, where we trekked around for over an hour and drank fresh glacier water that we scooped from an aqua coloured stream atop the glacier.
The entire cruise was an incredible experience and one that I'll never forget. If you ever get the chance to take an Alaskan cruise, GO!
Life aboard the cruise ship was pure luxury, and the food and drink was incredible, which brings me to the Key Lime Pie Martini recipe that I'm sharing with you today.
Yes, Key Lime Pie Martinis are actually a thing, my friend.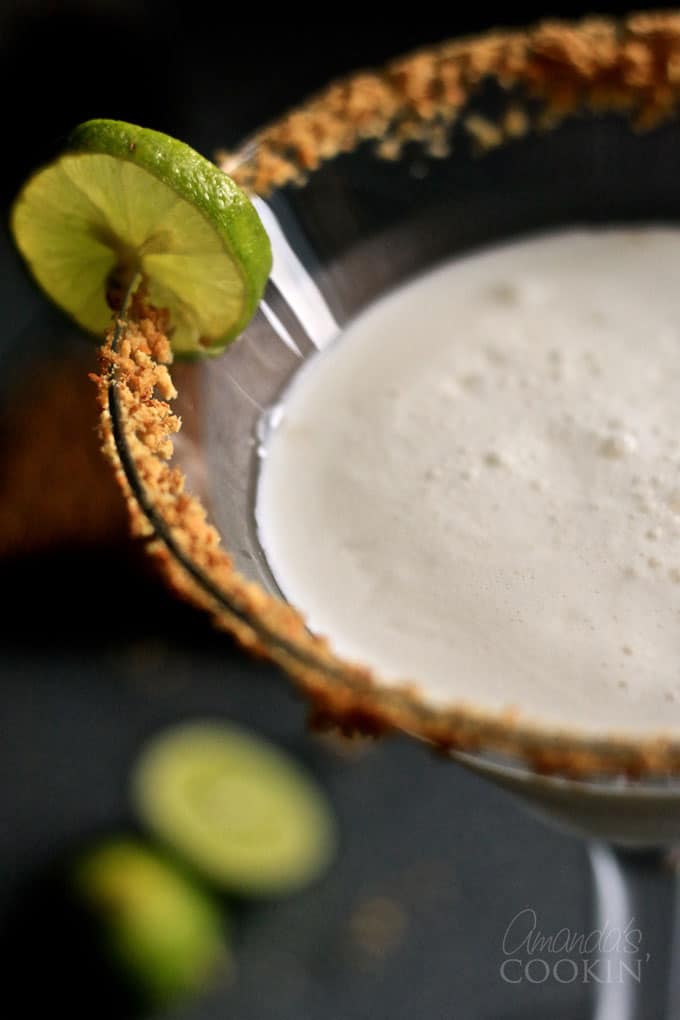 On our last evening at sea, we were enjoying cocktail hour at The Wheelhouse Bar before dinner when I decided to skip my usual glass of red wine in favour of a cocktail.
I'm a fan of fun and fruity drinks, so I was scanning the menu for something intriguing when I spotted it:
Key Lime Pie Martini ~ Absolut Vanilla, Coconut Rum, Fresh Lime, Pineapple Juice and Cream
YES, PLEASE!
Oh my word! I can't even tell you how incredible that martini was. It was seriously like key lime pie in liquid form.
It was rich and creamy, tart and tropical, and just like key lime pie, it had this layer of light bubbly foam on top.
I couldn't sip it slowly. I really did. But it was way too yummy to take my time with.
I pretty much inhaled it, and immediately ordered a second.
Back at home, a few days later, I knew I had to recreate this cocktail for my husband and I to enjoy. Using the ingredients I'd seen listed on the bar menu on the cruise, I set about my work.
I wasn't certain about the measurements or the kind of cream they'd used, so I experimented for several days until I got it just right. I'm not gonna lie; it wasn't exactly a chore perfecting the recipe.
In fact, I may have intentionally gotten it wrong a few times just so I'd have to try again.
My first few attempts were too lime-y, too booze-y, too pineapple-y, and too thin. I tweaked and adjusted and experimented with different creams – half and half, coconut milk, and whipping cream.
I shook that martini shaker more in one week than I have in the past year, and with every revision, I got closer and closer until…
…perfection!
Rich and creamy, slightly foamy and so darn good you can't sip it slowly.
Key Lime Pie Martini Ingredients
(measurements are included in the printable recipe card below)
Coconut Rum
Vanilla Vodka
Pineapple Juice
heavy cream (also known as 35% cream or whipping cream)
key limes
ice cubes
graham crackers or graham crumbs (if rimming your martini glass)
Helpful kitchen tools:
Note: You can make your key lime martini without a rimmer (as pictured in the photo below), but if you want to rim your martini glass with a graham cracker crust, i've included those instructions further down in this post.
How to Make a Key Lime Pie Martini
To start, pour your coconut rum, vanilla vodka, pineapple juice, and cream into a martini shaker.
Next, cut two key limes in half, and squeeze the juice of all four halves into the strainer. Don't worry about the seeds as the strainer of your martini shaker will keep them out of your drink.
Before adding your ice, place the lid on your shaker and give your martini a 10-second "dry shake".
After your dry shake, remove the lid of your shaker and add ice cubes to fill it to the halfway mark.
Place the lid back on your shaker and continue to shake your martini for another 20 seconds or so until the shaker is icy cold.
Remove the lid of the shaker and pour through the strainer into a martini glass.
Garnish with a slice of lime.
Rim your Martini with a Graham Cracker Crust
To make your martini even more like a slice of key lime pie, before mixing your martini, you can rim your glass with crushed graham crackers.
This step isn't necessary, but it adds a nice touch to a Key Lime Pie Martini. After all, what's a key lime pie without a graham cracker crust?
To make your rimmer, crush a handful of graham crackers. A few pulses in a blender until the crumbs are quite fine will do. If you don't have a blender, you can crush your graham crackers in a sealable sandwich bag with a heavy glass or a rolling pin.
Pour the crumbs in a thick layer into a shallow bowl or saucer.
To wet the rim of the glass, you can swipe a lime around the edge, but I got the best results by running the edge of my glass under the tap. Another idea is to put water in a shallow dish or small plate and place the glass upside down in it to wet the rim.
Press the outside edge of the glass into the crumbs, rolling and pressing until you have a nice "crust" all the way around the rim of the glass.
Rimming your glass is quick and easy to do, but if you don't have graham crackers, don't fret. Your key lime martini will do just fine without them.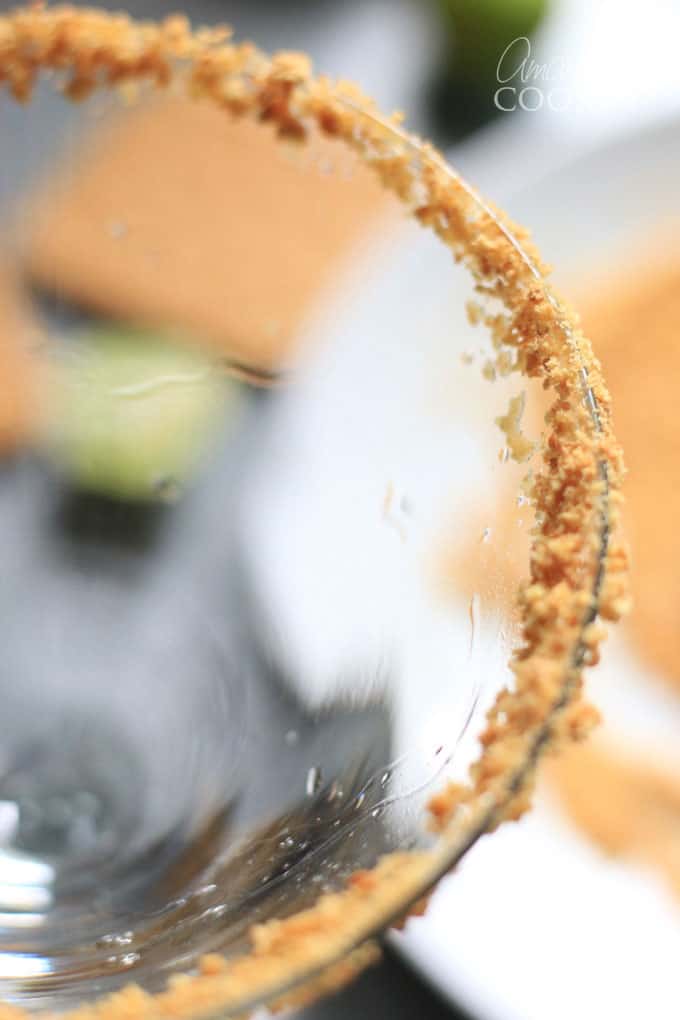 Don't believe me? Just try it.
Bet you can't drink just one!
Key Lime Pie Martini
This martini is made with coconut rum, vanilla vodka, pineapple juice, lime juice and cream. It's the perfect cocktail when you want to sip something rich and decadent, and tart and refreshing all at once.
Ingredients
Martini
1.5

ounces

Coconut Rum

1

ounce

Vanilla Vodka

1/2

ounce

or 1 tbsp Pineapple Juice

1

ounce

heavy cream

whipping cream

2

key limes

ice cubes
Garnishes
1

slice

lime to garnish

1/4

cup

graham crumbs

4-5 crushed graham crackers
Instructions
Pour rum, vodka, pineapple juice, lime juice, and cream into martini shaker

Dry shake (without ice) for 10 seconds

Add ice cubes to fill shaker halfway and shake for 20 seconds

Strain and pour into martini glass

Garnish with slice of lime
GRAHAM CRACKER RIMMER (NOTE: RIM GLASS BEFORE MIXING MARTINI)
Crush graham crackers finely in blender or by hand

Pour crumbs into a shallow bowl or saucer

Swipe rim of martini glass with wedge of lime or run under tap to wet outside rim

Press outside edge of glass into crumbs to form "crust" around rim of glass
Nutrition
Calories:
358
kcal
|
Carbohydrates:
18
g
|
Protein:
2
g
|
Fat:
12
g
|
Saturated Fat:
6
g
|
Cholesterol:
38
mg
|
Sodium:
150
mg
|
Potassium:
37
mg
|
Sugar:
6
g
|
Vitamin A:
415
IU
|
Vitamin C:
1.4
mg
|
Calcium:
35
mg
|
Iron:
0.9
mg
Jackie is a mom, wife, home daycare provider, and the creative spirit behind Happy Hooligans. She specializes in kids' crafts and activities, easy recipes, and parenting. She began blogging in 2011, and today, Happy Hooligans inspires more than 2 million parents, caregivers and Early Years Professionals all over the globe.